September 25, 2013
MAESTRO MUSTANG DASH KIT NOW SHIPPING!
Automotive Data Solutions Inc. (ADS) announces the immediate availability of its much anticipated iDatalink Maestro 'MUS1' dash kit for Ford Mustang models 2010 to 2014.
When installed with an iDatalink-compatible Kenwood radio and a Maestro RR module sold separately, the MUS1 dash kit (ADS-KIT-MUS1) offers the ultimate Mustang audio upgrade solution: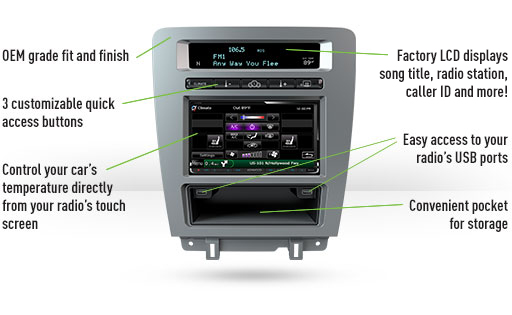 THE MUS1 INSTALLATION KIT INCLUDES:
A radio panel with user-configurable button bar;
Two steel radio mounting brackets;
A plug & play harness specifically for use with the MUS1 kit;
A storage pocket with flush-mounted USB ports;
A variety of button covers to customize the button bar.
For more information on MUS1 dash kit, Maestro RR features and compatible radios, visit www.idatalinkmaestro.com.